Imagine an outdoor oasis in your backyard. What does it look like, and what elements are you including? Is there a bar, pool, kitchen, fireplace, garden, etc.? Extra entertainment space is great when your home is the go-to hangout place for friends and family. Keep reading to find some design ideas for outdoor fireplaces and backyard entertainment hangouts!
What Types of Outdoor Fireplaces Could You Use?
You can choose from four different fuel types when shopping for a new outdoor fireplace. These four fireplaces include wood burning, natural gas, liquid propane, and gel/ethanol. Each fireplace is suitable for various outdoor lifestyles. However, the one you choose to purchase is up to your preferences.
Natural gas is the most affordable fuel type, but you must install a gas line to fuel fires. Liquid propane is an excellent alternative to natural gas because it's still affordable, and the propane tank is easy to install and refill. Wood-burning fireplaces work the same as inside the home, and they will require routine cleaning and ash disposal. Since gel/ethanol fireplaces create no smoke, ash, or soot, they can be ventless, and it's a portable component that you can take place virtually anywhere.
Now that you know the types of fireplaces you could place outdoors, let's look at the different design styles!
Traditional-Looking Stone Design
You can never go wrong with a traditional-looking fireplace, no matter if it's outdoors or indoors. A stone wood-burning fireplace mimics older architecture, which brings an ambience that you wouldn't find with any other design. You could even mix and match various types of stones to create a two-toned color for more dimension and style. We recommend finding stone and rock near your home to keep this structure as natural to the landscape as possible; plus, it's an affordable way to find these resources.
An outdoor sectional is the perfect seating arrangement for this fireplace, but you should furnish and decorate the space to match your design choices. A grill also works great within this outdoor hangout. Entertain guests around the fire while grilling the ultimate meal!
Double-Sided Brick Fireplace
Would you ever consider a double-sided brick fireplace? This unique design could allow you to enjoy a fire in various settings. One side of the structure might face a seating area that's more elegant and luxurious, while the other side faces a bar or entertainment center. Why not create the best of both worlds with a double-sided fireplace?
We said it was a brick fireplace, but you could use any material for this configuration. A gas or gel/ethanol fireplace could provide this space with a more modern and contemporary feel. Either way, a double-sided fireplace will impress your guests, and it's a great way to spruce up your outdoor living area!
Stucco Fireplaces
Stucco is a construction material made from water, aggregates, and a binder to create a hard, dense surface on your home. When you want to integrate an outdoor fireplace seamlessly into your home, stucco is a great material! However, if you want a seamless transition from the house to the outdoor fireplace, both must use the same material and color.
Installing an outdoor fireplace where you can't tell the difference between the home and this structure is a great way to ensure unity with your overall style. The great thing about stucco is that you can choose several different colors. So if you don't like the seamless style, you can always add a little dimension between the home and the fireplace by using two stucco colors.
Outdoor Kitchen Design
Is it your dream to build an outdoor kitchen for your house? Don't forget to add a fireplace to this project to bring more ambience and utility to the space! Your outdoor fireplace could potentially aid in cooking various meats or ingredients. Although, this shouldn't replace a traditional grill or stovetop.
Your outdoor kitchen could include a grill, stovetop, sink, mini fridge, etc. Your possibilities are endless, but adding a fireplace will take this kitchen over the top. This design idea for outdoor fireplaces is perfect for dinner parties and enjoying a home-cooked meal surrounded by nature.
Contemporary Gas Fireplaces
The amount of space in your backyard will likely determine how intricate you can make this outdoor entertainment area. When you don't have much room for extra amenities, a cozy patio furniture set and a contemporary gas fireplace will do. It might not seem like much, but arranging everything together on a stone patio can look tranquil yet minimalistic.
A contemporary gas fireplace is usually an insert you can place inside a structure. This makes it an ideal choice for an area without a lot of space. However, just like any fireplace, you will need gas fireplace maintenance services annually to ensure the appliance runs efficiently.
Bar Top Entertainment
Another element of an outdoor entertainment space is a bar top. If you love having tons of family and friends over and live in a warmer climate where you can enjoy the outdoors more, you need a bar for outside! A unique way to construct the bar is to include a fireplace in the design.
Friends can sip on an evening cocktail while relaxing next to a fire's dancing flames. We recommend using a gel/ethanol or gas fireplace to prevent soot or ash from entering the bar area and keep everything clean.
Poolside Hangout
Last but certainly not least, why not add a fireplace next to your pool? The kids can relish in the pool during the day, while you and your partner can turn the space into a romantic getaway at night. We guarantee that your home will be the ultimate hangout spot if you have a pool and fireplace.
The best fuel for placing a fireplace near a pool is using natural gas, propane, or gel/ethanol to keep ash from falling into the water. However, if the structure is far enough away, you can always install a traditional wood-burning fireplace. Remember, the choice is always up to you!
You might want to install an outdoor fireplace for aesthetics and ambience, but adding this structure can also increase the value of your home. This would be an excellent opportunity to design the perfect entertainment space for guests and make a return on investment if you ever sell the house. Which of these design ideas do you think would look excellent in your outdoor space?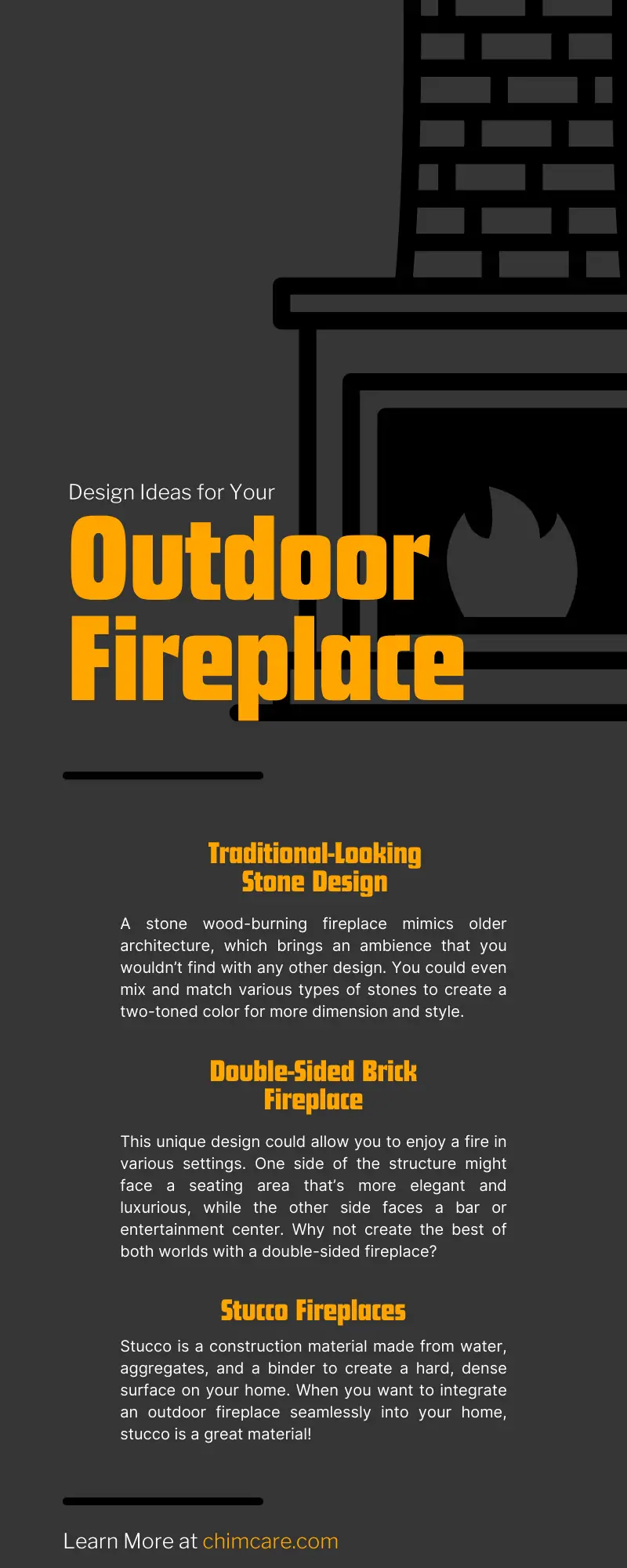 7 Design Ideas for Your Outdoor Fireplace