With Chimcare's chimney repair service, we provide all-around assistance for your chimney needs. Chimney sweeping and cleaning are only a part of the maintenance necessary to keep your chimney functioning and working efficiently. Chimcare provides top-of-the-line chimney and masonry repair services to fix the structure and/or design of your chimney if it falls into disrepair or gets damaged. We also offer affordable ways to safeguard your chimney for better protection, such as installing a chimney cap or applying chimney water-repellent.
Here is a list of chimney repair services we offer to all of our Chimcare locations around the Pacific Northwest:
Full chimney rebuilds

Teardowns

Crown repair/replacement

Tuck-pointing

Chimney liner installation/replacement

Moss removal

Water sealing/repellant application

New flue tiles

Flue liner replacement

Damper repair/replacement

Firebox repair/replacement

Interior damage repairs

Loose bricks and mortar

Chimney masonry repair
Chimney rebuilding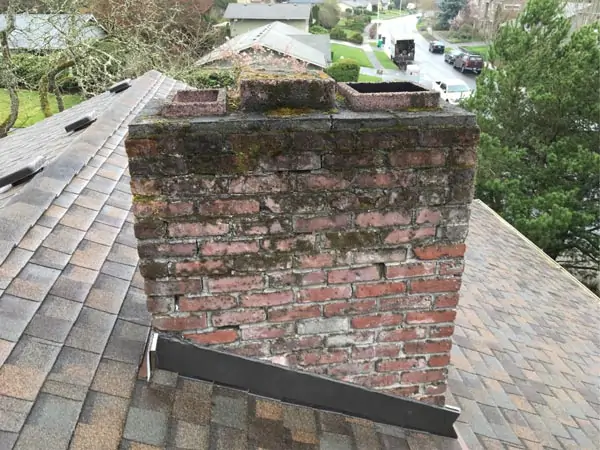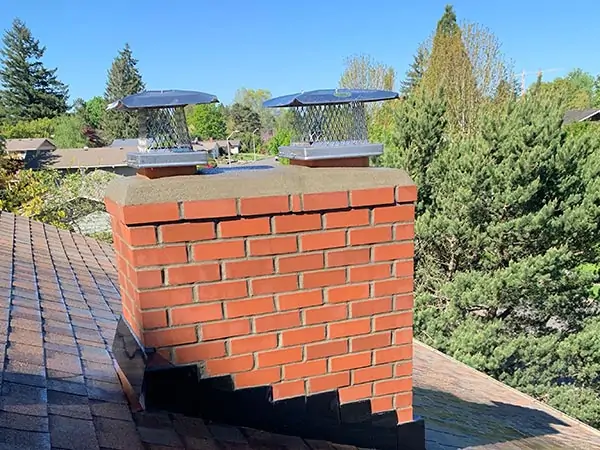 As chimney repair contractors, we want to help you prevent the elements from harming your masonry. For instance, as odd as it may seem, water causes more damage to chimney masonry than fire. While the brick and/or other materials that make up the exterior of your home are protected by the roof and eaves, your chimney is completely exposed to the elements; rain, snow, and freeze/thaw cycles.
What's more, chimneys are usually constructed from materials that suffer accelerated deterioration as a result of prolonged contact with water. A masonry chimney is constructed of a variety of masonry and metal materials, including brick, mortar, tile, steel and cast iron. These kinds of materials deteriorate quickly when exposed to the freeze/thaw process, in which the moisture that has penetrated the materials periodically freezes and expands, causing undue stress. Water also causes rust in steel and cast iron, weakening or destroying the metal parts of your chimney.
Water penetration can cause interior and exterior damage to your home and masonry chimney including:
Spalled and broken brickwork

Deteriorated metal or masonry firebox assemblies

Rusted damper assemblies

Rotted adjacent wood and ruined wall coverings

Deteriorated central heating system

Decayed mortar

Cracked fuel liner systems
Luckily, our chimney repair service is here to help. After all, with the amount of rain that falls here in the Pacific Northwest, chimneys here absorb a lot of water, which leads to the mortar and brick needing repair on a more frequent basis than that of a home and chimney in California. Also, whenever we have freezing temperatures, the moisture in the brick and mortar expands and contracts, creating small hairline cracks and breaking down the mortar joints, crown and bricks. If left unfixed, the chimney could crumble and/or water has a greater potential of leaking into your home, leading to costly chimney repairs.
To protect against this, Chimcare offers an important maintenance procedure that most homeowners overlook: sealing your chimney to waterproof it against absorbing moisture. Our commercial-grade sealer will waterproof your chimney for 10 years. 
Water protection is the primary concern where brick chimneys are concerned, and our chimney repair services help repair any damage caused from moisture. With a sealing service and/or installation of protective features such as chimney caps, flashing, and liners, our chimney repair company can help keep your chimney safe from fire and water damage in the future, too!