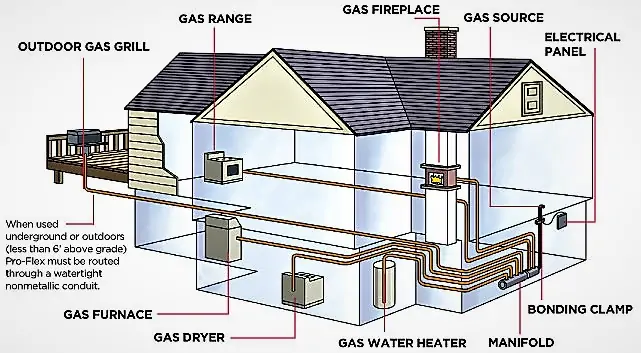 To ensure a safe and secure installation, homeowners should always rely on trained professionals to set up gas lines. After all, fireplaces and chimneys go hand-in-hand, and our team wants to ensure both systems function properly on your property. However, as you can see from the image above, a fireplace isn't the only system that relies on gas lines. Luckily, our team of professional contractors can easily help you with such tasks.
At Chimcare, we specialize in gas line installation for the greater Seattle, WA, Portland OR, and Cleveland, OH, areas. Various gas-powered appliances help homes thrive every day, so our team of experts works to ensure you can make the most out of your property. Whenever you need a professional fireplace gas line installation in Seattle, Portland, or any of our other convenient service areas, you're only one phone call away from finding reliable help.
In addition, we have trained and certified gas plumbers that can also perform gas line repair and installation service. Simply put, we want to help you build the best gas line system for your needs.
When you partner with Chimcare, you put your trust in our licensed, bonded, and insured natural gas line installation technicians. We take your fireplace gas line installation from start to finish in a safe and easy process. Many homeowners are switching to natural gas as it's affordable, energy-efficient, and friendly for the environment. Plus, gas fireplaces don't have to rely on wood for fueling the fire. So, when you want to start a fire, using gas is much more convenient and much less time-consuming. We install gas lines to fireplace gas inserts, stoves, grills, and any appliance that you might have in your home. That way, you can enjoy the benefits of natural gas at home. After all, if you want to live an eco-friendlier lifestyle, optimizing your appliances is one of the best ways to start the journey.
Call us today for a Free Estimate and timely schedule for your gas line installation service.