Wood Fireplace Quote
Wood Fireplaces can only be installed within wood framing. IE: Wooden Chase or new construction
Example: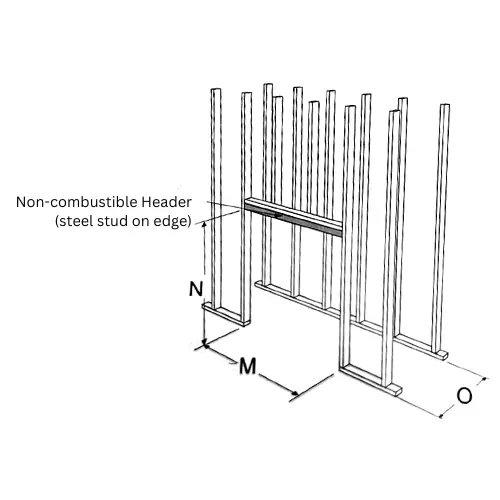 What is the current existing fireplace?
If a wooden chase chimney (Pre Fab) or new construction, you are at the correct SOP. If a masonry chimney you will need to refer to the SOP for gas inserts.
Identifying what unit will fit inside a Wooden Framed Chimney
Check the framing height and width of the existing fireplace unit to help determine what Wood Fireplace to recommend. You will want to find a unit that is relatively close to existing framing measurements. It can be within a few inches larger or smaller than the existing framing. We can adjust and frame in new unit at time of installation.

Take photos standing back and looking at fireplace so installer can see where the unit is being installed.
Replacement of a pre-existing wood prefab or new construction
Step 1
When installing a Wood Fireplace it usually requires us to remove the existing stone or tile around the fireplace opening so we can remove the existing unit. This will require that you bid for new culture stone to be installed and possibly a new wooden mantel if the customer agrees.
a. Measure for sq.ft of area to have new stone and hearth stones at hearth installed
b. Speak to customer if they want to extend stone from floor to ceiling if the current tile or stone only goes up to mantel height.
c. Measure for wooden mantel if needed
d. Take photos standing back showing hearth, surround and mantel area
Step 2
Measure for piping
a. Measure height of chimney chase to determine length of double wall stainless pipe that will need to be installed
Step 3
Does customer need to run an electrical outlet to back of firebox?
a. Measure height of chimney chase to determine length of double wall stainless pipe that will need to be installed
Items needed to build a proper estimate
Scaffolding?
Appliance Sold( Ventis Fireplace)
Required Options Such as

a. Fire Screen
b. Hot air gravity kit
c. Fresh air intake

Venting: Item list of Pipe needed to vent up through chimney chase
Culture Stone or Brick
Wooden Mantel
Installation Charge
Permit – $1,250
Photos Needed
Front of house showing roof line up to chimney
Include front yard and driveway
Include everything that is a potential obstacle for the install crew
If scaffolding is needed, take photo of where you would setup scaffolding
Interior
Take multiple photos standing back looking at fireplace area of where the wood fireplace will be installed
Photo of your setup. Tarps, plastic built rooms ect. How did you protect the customers' home?
Exterior
Full length photo of chimney from ground to top. Stand 10' back if possible

Include surrounding access area
If there is a fence or obstacle close to the chimney. Take your tape measure and see how many feet away is the fence. If there are power lines near the work area, make sure that you have photos that clearly show them.

Take photo on roof looking at chimney
One shot standing back from 7' feet away
Photo of top of chimney chase
If roof lines are difficult, take shots from different angles. Use an app called 'Pitch Factor". Screenshot and upload to Service Titan
Note: It would be better to take too many shots than too few